We talk a lot about the power and performance of our tech and data, but more importantly its our people that really make the difference in our business. This month we reflect and celebrate two heroes that really went the extra mile for us in January, displaying perfect examples of our core value – One Team.
Jason Pennicott – Management Executive
Jason is no stranger to pulling his socks up and digging in, as a Management Executive he manages a convenience field team for one of our brand partners, supporting them with training and development needs and store results delivery to achieve targets and objectives on behalf of the client.
However, Jason he was nominated by his colleague after helping them deliver a project, outside of his normal day-to-day role, ahead of schedule! From recruitment to campaign building, Jason lent his support and knowledge every step of the way, whilst also helping his colleague to develop their own skill set in the process. The project, with a different brand, is now ready to commence an initial 12-week trail within the convenience sector in the next few weeks. This is a great opportunity to demonstrate its potential in the market and our capabilities in delivering this for them. Nice one Jason!
So Jason, what makes you go the extra mile? –
"Unless you push yourself, you are never going to really progress and develop and challenge what you can achieve.  The role is always challenging, and no two days are the same, which keeps everything fresh and keeps me on my toes.  It also helps me to develop as both an individual and a manager facing and overcoming new challenges and opportunities.

"It feels great to be recognised for the support I have given, its an honour! For me, what I do is simply part of the 'One Team' mentality we need to have as a whole business to ensure we achieve our goals and targets. I Would like to think I can rely on my colleagues and peers to support me if I needed it too."
You can count on us all Jason, we have your back!
Gavin Croft – Territory Sales Manager (Manchester and surrounding areas) + ISS Training Ambassador
New dad Gavin (to 4 month old James) was nominated following his help delivering a 'How to Guide' with a colleague for a Top 4 retailer, all outside of his normal working hours (and nappy changing schedule). Instrumental in gathering updates required to amend the current document, Gavin's relationship with key decision makers (KDMs) within the retailer was critical in allowing free reign of information to be gathered in store. The latest guide will now support all colleagues working within the retailer understand more about what and how tasks are completed in store.
Previously a Section Leader in this retailer, Gavin already had a great working relationship with the KDMs in his area, but when we asked his secret to success, replicating this close relationship in other retailers, he said: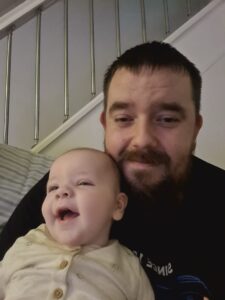 "It's about being approachable and always trying to engage in conversations when in store, with whoever is around. Even if that person is not going to be directly involved with your work that day, it's great to build that repour with store staff, as it goes along way."
Despite no sleep for two days, with the little one certainly keeping him on his toes and his partner already considering the next, Gavin was delighted to be recognised by his colleagues for his efforts and knowledge that his work is valued.
Thank you Gavin, now go have a lie down while you can!
…and not forgetting
There were other stellar performances that were recognised by our colleagues in January including: Stuart Wass (yes him again – we really need to find out what he's drinking and bottle it), Luke Friar & Mike Fahy.
Thank you for your hard work guys… keep it up ????